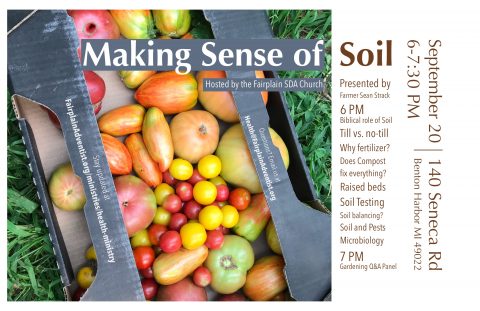 Coming up! Making Sense of Soil: Gardening Seminar and Q&A Panel
We would like to invite you to join us for another Monday evening health seminar. This time, our own farmer will be presenting on soil health. Soil health has a direct link with our own. 
When: Monday, Sept 20, 6-7:30pm
---
6 PM | Making Sense of Soil
Farmer Sean will present a 1-hour lecture on the Biblical role of soils, as well as addressing common questions such as, Should you till or not till?, Why fertilize?, Does compost fix everything?, and more.
7 PM | Gardening Q&A Panel 
Gardening Q&A panel discussion to answer all your questions based on what you heard. Plus any other gardening questions you may have.
---
FREE ADMISSION / RSVP Down Below
Questions? Email health@fairplainadventist.org
Church COVID-19 Response
As we see the numbers of Covid-19 Delta variant cases increasing rapidly, it is ever more important that we all remain mindful and vigilant about our health and the health of others. If you are feeling sick in any way, please choose to stay home from church and church activities. Many who have tested positive for Covid more recently have not been experiencing the normal symptoms of the initial strain. With the Delta variant you may not have such symptoms as cough or the loss of smell or taste. However, many are reporting sore throat, runny nose, headache and fever. Others have also reported nausea and stomach problems. 

Please, be mindful of your health and if you do not feel well, even if you have responsibilities at church, choose to stay home for the sake of your brothers and sisters. Find someone to cover for your responsibilities and take time to recover before returning to church. Also please contact our health ministry team (at the above email) and let them know you are not feeling well, and they will pray for you and share with you some natural remedies to boost your immune system.
 
Facts about the DELTA variant:
If you have had COVID before, you only have a 10% chance of contracting or carrying the virus.
In order to transmit COVID, you must remain in the same room with another person for more than two hours.
Vaccination is not effective at preventing transmission, though it has a possibility of protecting some systems. (this is currently under construction, sources and treatment info, as well as vaccine coercion and conscience links will be added)