VIRTUAL CHURCH
Live Stream will be available on our YouTube Channel. Here is a direct link.
Sabbath School resources can be found on our Sabbath School page.
---
WELCOME
We are glad you stopped by! Would you like to join us? We welcome you to experience not only friendship and fellowship with a caring church, but a real connection to a living, all-powerful God. Jesus loves you, and we meet with Him here.
If you would like to come and worship with us, the main service starts every Sabbath (Saturday) at 11:00 am. We hope that you will come and receive a wonderful blessing.

We have a church fellowship meal the first Sabbath of the month following church services.
The Lord bless you and keep you. The Lord make His face to shine upon you and give you peace.
Pastor Gerhard Erbes 
Benton Harbor Fairplain Seventh-day Adventist Church
Join Us This Saturday
Service times:
Sabbath School: 9:30 am
Worship Service: 11:00 am
SPECIAL EVENTS
Are you looking for a deeper, more faith-filled walk with God? Do you want your children to know Jesus intimately, as their best friend?
Live Like Elijah is an Intergenerational Revival Series with Don MacLafferty that will be taking place at the Fairplain church. Starting Monday, March 27 at 5:30 pm, come for a unique, family-oriented week of drawing our hearts and families to the living, loving, Creator God; to rediscover Him, and to live for Him fearlessly and faithfully. Now is the time!
Please find Don MacLafferty's testimony here: www.RevivalAndReformation.com 
His website is www.indiscipleship.org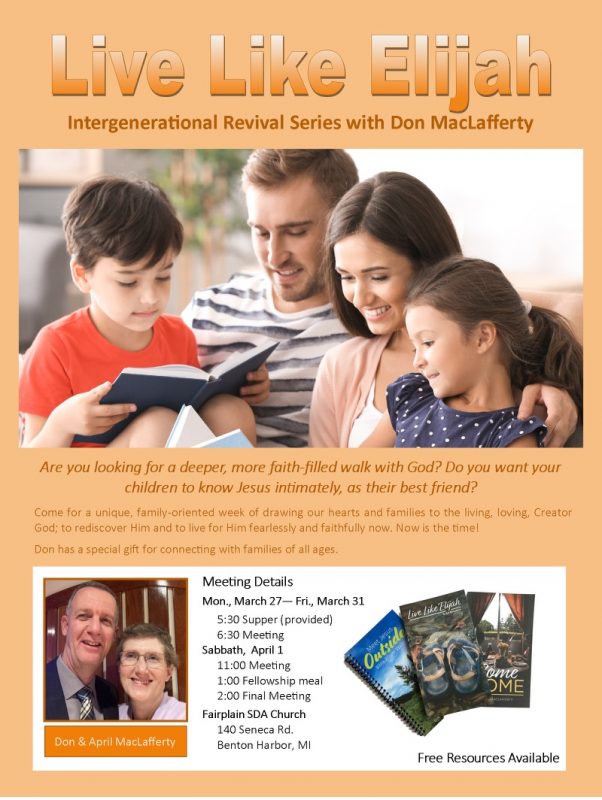 We are excited to invite you to join us for an inspiring evening at the Hanson Theatre on April 2nd, 2023 at 7pm. We will be screening the film "Titanic Deliverance," which tells the story of a family on the ill-fated Titanic. We hope you'll join us for this special event and bring your friends and family along. Let's come together as a community and enjoy this amazing film. We can't wait to see you there!
For tickets and more info visit: www.themendelcenter.com/events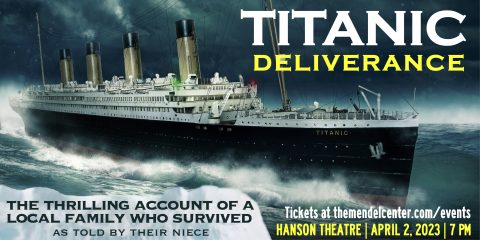 WQBH RADIO
WQBH Radio is on the air serving the Benton Harbor and St. Joseph areas. 102.9 LPFM. www.WQBHradio.com
How To Get Here